Rebuild Your Smile With Implants
If you are missing teeth due to injury or disease, dental implants are a long-lasting, highly effective replacement option that can restore the aesthetics and functionality of your smile. Placed directly into the jawbone to serve as artificial tooth roots, implants can support customized crowns, bridges, and dentures. Dr. Haitham Ennabi and his team of dentists place and restore dental implants at both their Hopewell Junction, NY, and Pawling locations. Equipped with a diverse team and advanced technology, we can provide your treatment from start to finish at our office.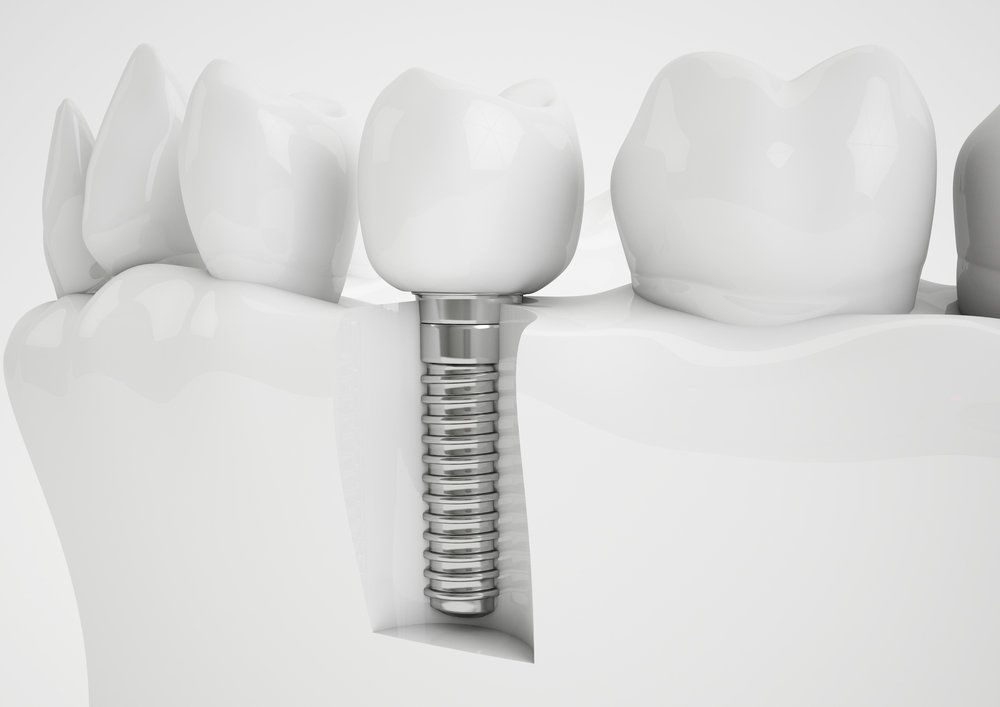 Dental implants serve as a long-lasting replacement for both a tooth and its roots.
What Are Dental Implants?
Dental implants are small titanium posts placed directly in your jaw. Made from biocompatible materials, implants fuse with your surrounding jawbone through a process known as osseointegration. This allows them to serve as a lasting, lifelike support system for restorations such as crowns, bridges, and dentures.
For many patients, dental implants can lay the foundation for a healthier smile for life.
The number of implants you need will depend on the number of missing teeth, the complexity of your case, and the type of restoration you choose. While dental crowns are supported with a single implant, dental bridges may require two or more posts to securely anchor your restoration. Dentures can often be supported with as few as four or six implants.
Benefits of Dental Implants
Dental implants offer many restorative and cosmetic benefits. Individuals who undergo this procedure can benefit from:
Complete restoration of lost teeth, from root to crown
A high success rate (as much as 95 percent after 10 years)
A comfortable and lifelike prosthetic
Better bite balance
Improved chewing function
Improved speech
Prevention of jawbone recession
Improved overall oral health
Prevention of teeth shifting out of place
A permanent solution to missing teeth
A more attractive smile and a boost in self-confidence
Are You a Candidate?
During your initial consultation, we will perform a thorough examination of your jaw and discuss your needs and goals before recommending a treatment plan. Candidates must be in good overall health, should not smoke, and must have enough jawbone tissue to support an implant.
Certain patients may need preparatory treatments to boost their chances for success. Although insufficient bone tissue previously disqualified certain patients from treatment, a bone graft or sinus lift can encourage new bone growth and potentially improve your eligibility. Additionally, oral health conditions such as gum disease require treatment prior to implant surgery to reduce the risk of implant failure.
What to Expect during Treatment
On the day of your surgery, one of our doctors will use a combination of local anesthesia and sedation, if necessary, to ensure that you are comfortable. The doctor will then create an incision in your gums to access the jawbone. A small hole will be made to accommodate each post. Once your implants are firmly placed into the jawbone, your dentist will suture the incision shut and gauze will be placed to control bleeding. Remember to arrange for a friend or relative to drive you home after surgery. Sutures are generally removed around two weeks after surgery.
Over the next four to six months, the implants will fuse with the bone and create a stable, healthy foundation for your restoration. An abutment will be placed on your implant either during the initial surgery or during a second minor surgery. This small connector piece attaches the restoration to the implant. Once you are fully recovered, and your gums have healed around the abutment, you can receive your permanent crown, bridge, or denture. The entire process can take up to a year or longer depending on whether you need a bone graft or other preliminary treatment.
Recovery & Aftercare
The length of your recovery period will vary depending on if extractions are required, the complexity of your case, and how fast you heal. Soreness and mild discomfort near the surgery site are to be expected during the first few days after surgery. Dr. Ennabi may prescribe pain medications to manage discomfort, if needed. Most patients are able to return to work the day after surgery, although taking a few days to fully rest is advisable when possible.
First Week
During the first week of recovery, your activities should be limited to rest when you are not working. Strenuous activities like bending or lifting may result in an increased risk for bleeding, swelling, or discomfort. Maintaining good oral hygiene is key to preventing infection. Do not refrain from brushing but remember to be gentle around the surgical site. Rinsing your mouth with salt water (1 tablespoon of salt with 8 ounces of water) can help control bleeding.
During this period, it is generally advised to avoid:
Using a straw
Brushing aggressively
Drinking hot liquids
Eating hard or crunchy foods
Consuming alcohol
Touching the surgery site
By the end of the first week after surgery, most of the discomfort and swelling should subside.
The Following Months
To ensure a healthy recovery over the months following implant placement:
Eat a nutritious, balanced diet
Refrain from smoking
Report bleeding or pain from the implant site immediately
Follow recovery guidelines closely
Maintaining Your Implants
Following your surgery, Dr. Ennabi and his team can outline a care and maintenance routine to preserve your implants for as long as possible. Once your implants are fully healed, maintenance is as simple as caring for your natural teeth. Dental floss can be used to clean the area around your abutment. Good oral hygiene and biannual visits to the dentist will allow you to enjoy the benefits of dental implants for many years to come.
Choose a Superior Method of Tooth Replacement
For many patients, dental implants lay the foundation for a healthier smile for a lifetime after surgery. Patients can expect a safe and effective treatment when undergoing dental implant placement at our office. To make this innovative treatment option as accessible as possible, our office works with CareCredit® to finance your treatment. To schedule an initial consultation, call us today at (845) 227-1996 ​or contact our team online.